For this project, we were briefed that we had to make an app with a food theme, however, the rest was up to us in terms of the idea, scope and target market. I decided to make a children's recipe app aimed at children to use, as in my research I established no apps like this existed (only apps aimed at adults for making kids meals), which really surprised me. My app is full of easy recipes that aim to make children more interested in learning how to cook, and leading the cooking in the home. 
I was surprised that this idea didn't exist at all, as 51% of 5-8 year olds have already used a smartphone, and this statistic will only rise in years to come. However, there were many cooking books aimed at children to read and use, which seemed almost outdated.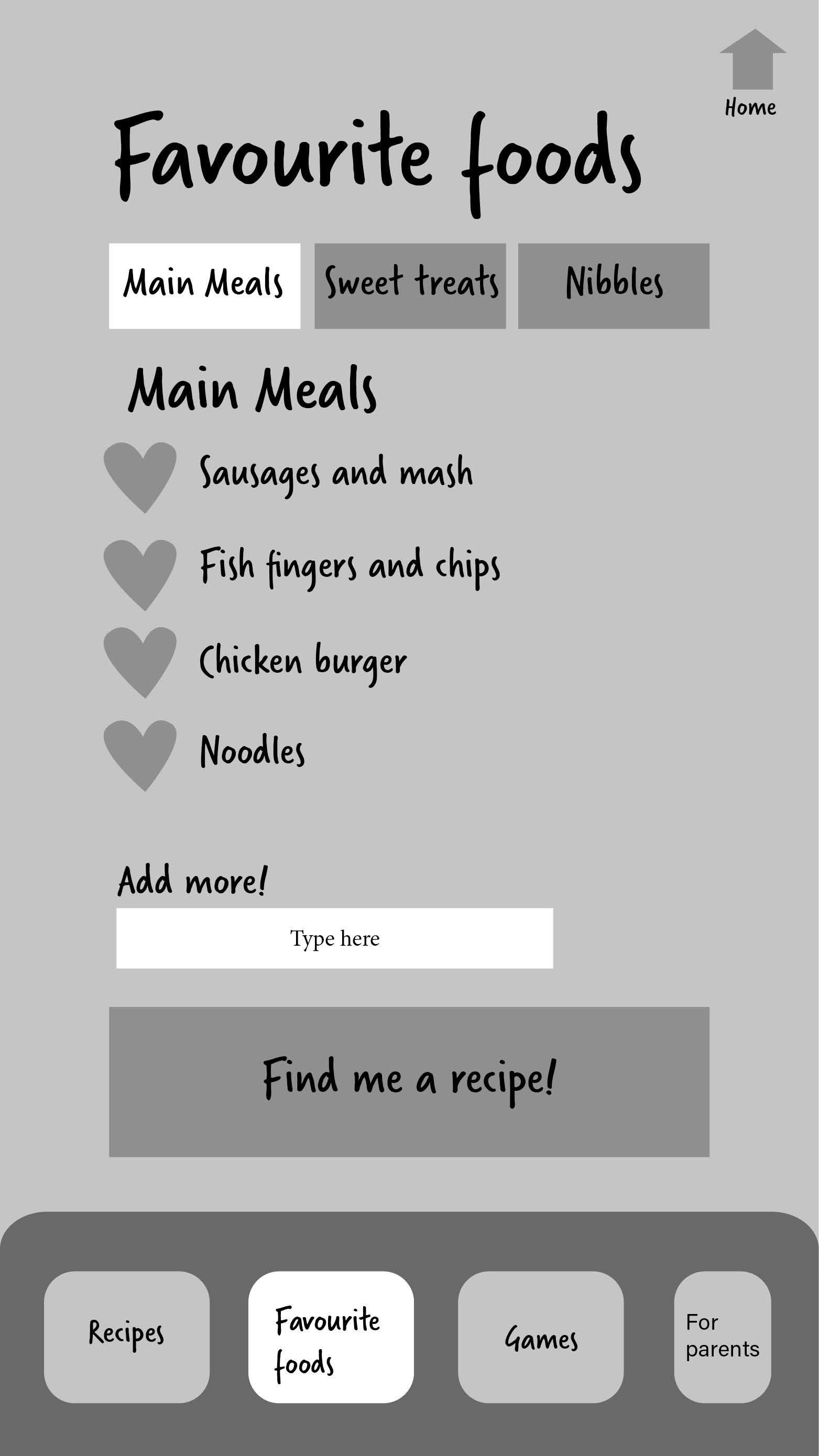 My app mainly focuses on recipes, with easy steps split into those that kids and 'grown-ups' can do. This allows the child to lead the cooking in the home. The 
Let's Cook
 page has recipes split into Delicious Dinners, Delightful Desserts and Scrumptious Snacks, all with colourful illustrations to make the recipes come to life. The user can then add meals onto the
Starred
page, which are then split into dishes to try, and dishes they've loved and therefore saved for easy access. The
Favourites
page is where the user can add their favourite food they have at home, and using the ingredients mentioned, Nommies then generates meals and dishes for the user to try, which can be rated. The
Let's play
page has some fun games for the children to play, which in turn unlocks more recipes to make. The philosophy is that the child would be more likely to try new things if they have unlocked them!
The evolution of the visual identity, from wireframe to final outcome
This design evolved quite substantially from the initial wireframes and designs. I learnt that using fewer colours and thinner outlines made the app look more polished, as well as still being suitable for my target audience. I then realised that using the more childlike font for the buttons and headings worked better than using it for labels and smaller text, as it is less legible at smaller sizes. 
This was one of my favourite projects of second year due to the freedom in idea and design, and I got quite attached to Muffin the bear by the end of the project!