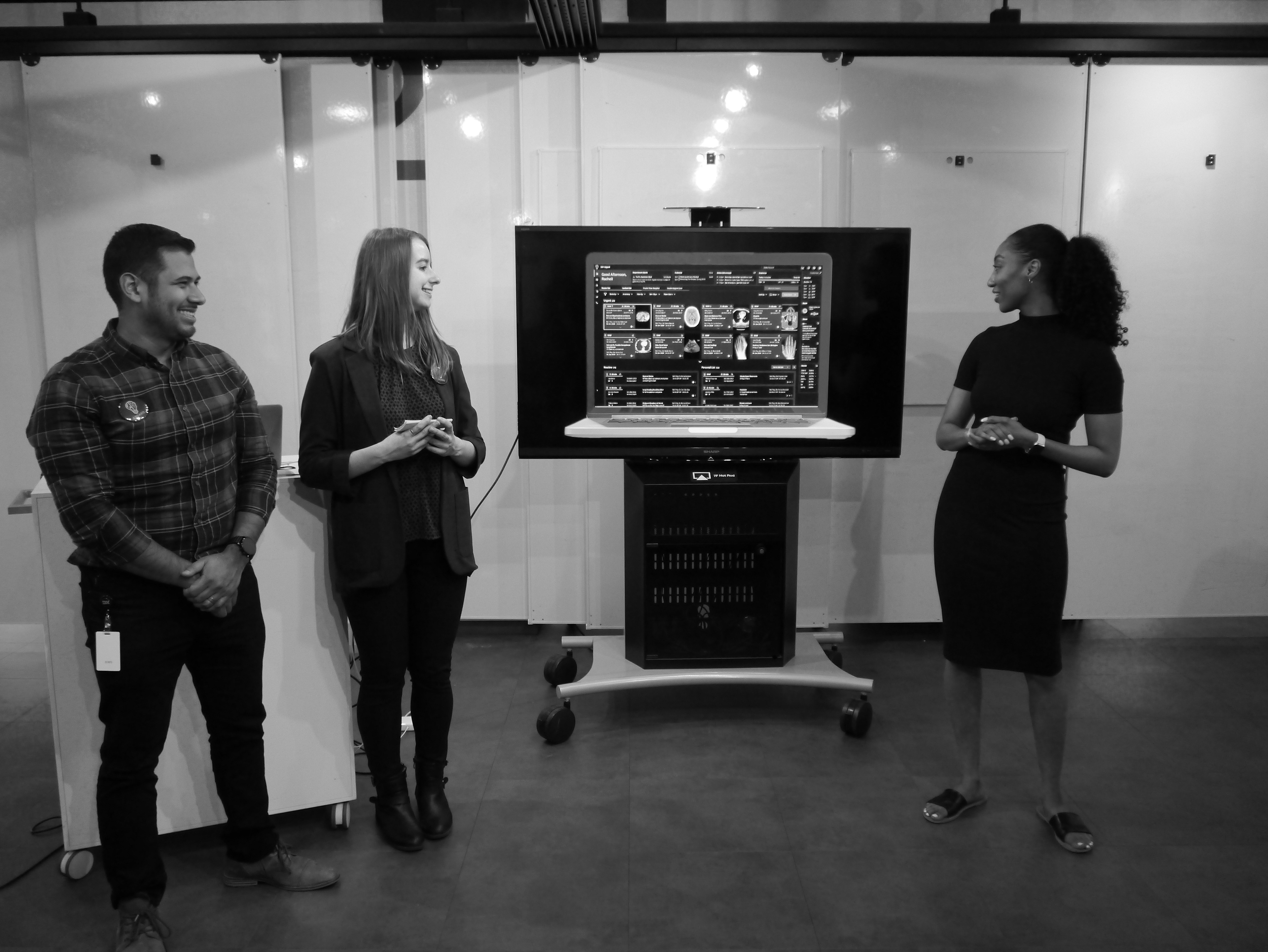 At IBM, new designers are lucky enough to take part in the Patterns programme. Patterns is a 6 week intensive programme where groups of new designers solve a real problem, in a domain they are not familiar with.
I was on team Asgard, a team of two UX designers, one design researcher, an offering manager and myself- a visual designer. I took the role of team lead, leading our team through research, user interviews, design and iteration, as well as finally, taking a presenting role at our final Playback 0 presentation.
The problem statement
Our team was given the area of Watson Health, to create a design solution that met the following problem statement:
"How can we help a radiologist prioritise patient studies, and be presented with images and information based on their needs?"
We were very excited to work on this area, as although no one in our team knew anything about the systems radiologists use today, we were well aware that this design solution could hugely impact patient lives.
Attacking the problem
To work out what we first needed to identify what we did and didn't know (mainly, what we didn't know). This allowed us to understand our problem space and the as-is of how radiologists work today.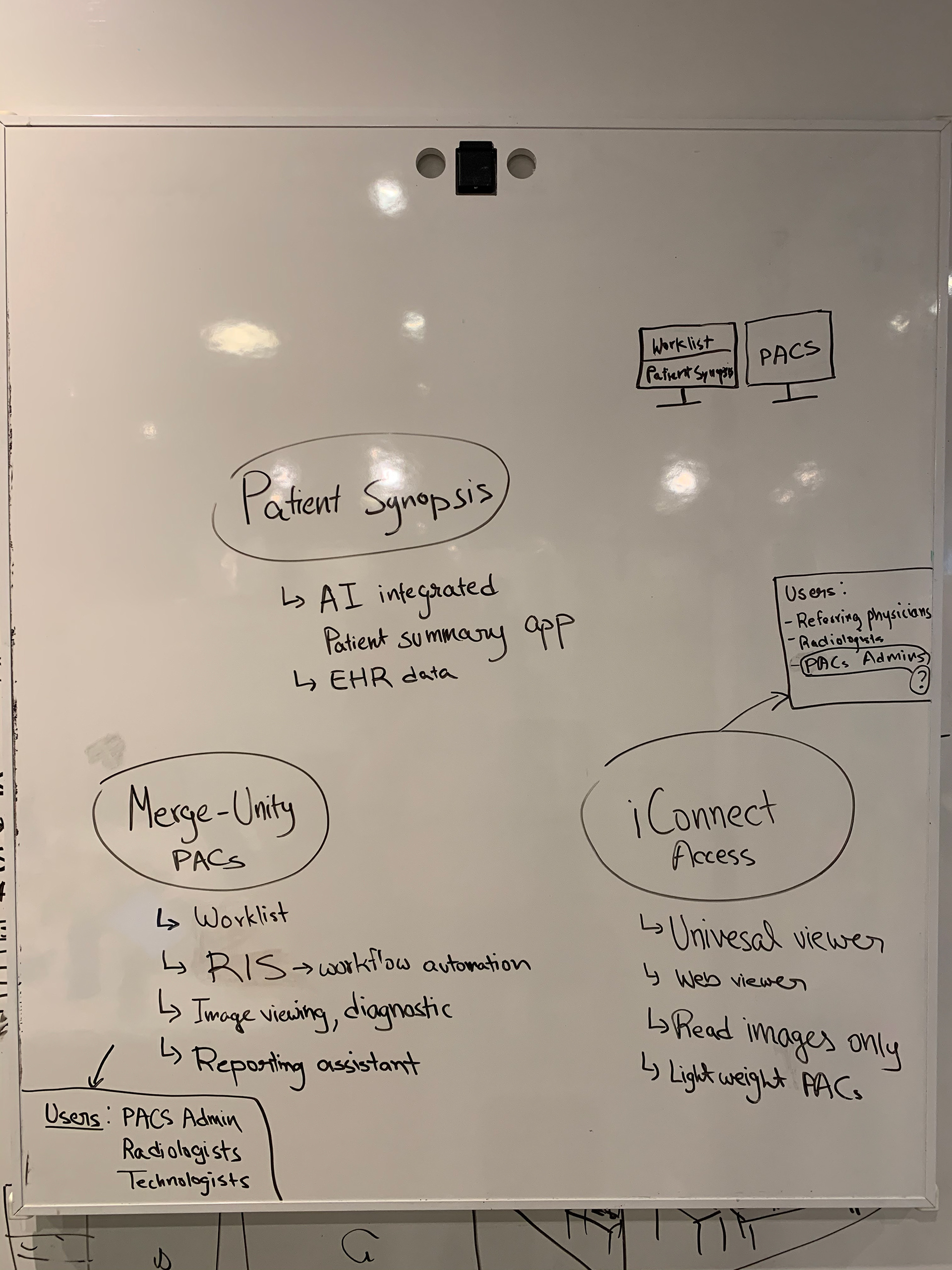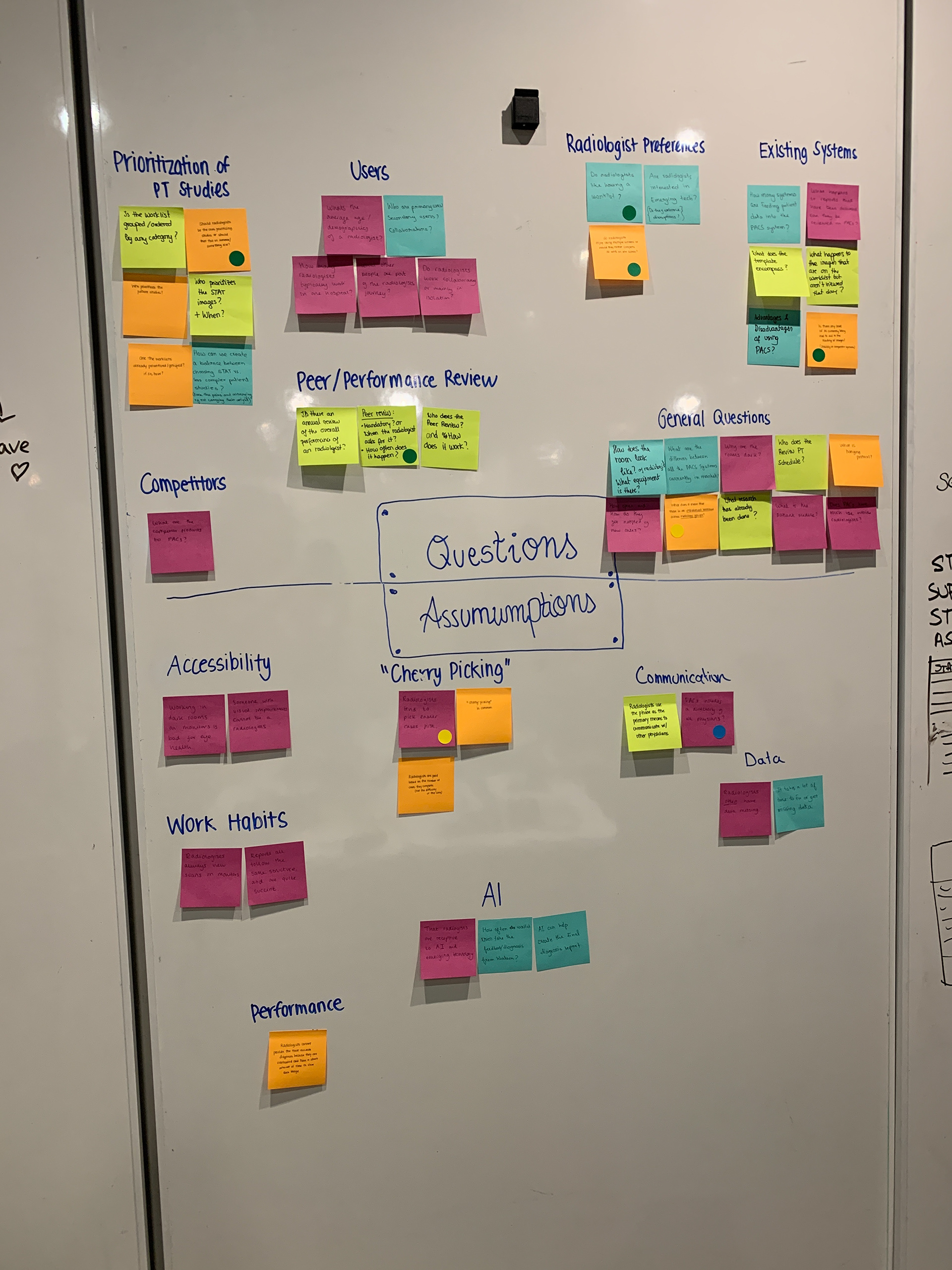 Getting to know our user
In order to create a successful solution, we first needed to work out who our user was.  By completing empathy maps, we started to understand the conditions Rachel, the General Diagnostic Radiologist works in.
Rachel's job is an incredibly important one, but also a job that can be very isolating and stressful. Radiologists work with multiple systems when diagnosing patients. They work using the PACS system, broken up into three main components.


T
he worklist: a list of patient studies, ordered by time, which has urgent cases (STAT) marked accordingly.
The imaging: Once the radiologist has chosen a patient, they load up the images in a separate software. Here they can start the diagnosis
The reporting: After viewing the images, the radiologist creates a report which is sent back to the hospital, where a doctor will inform the patient.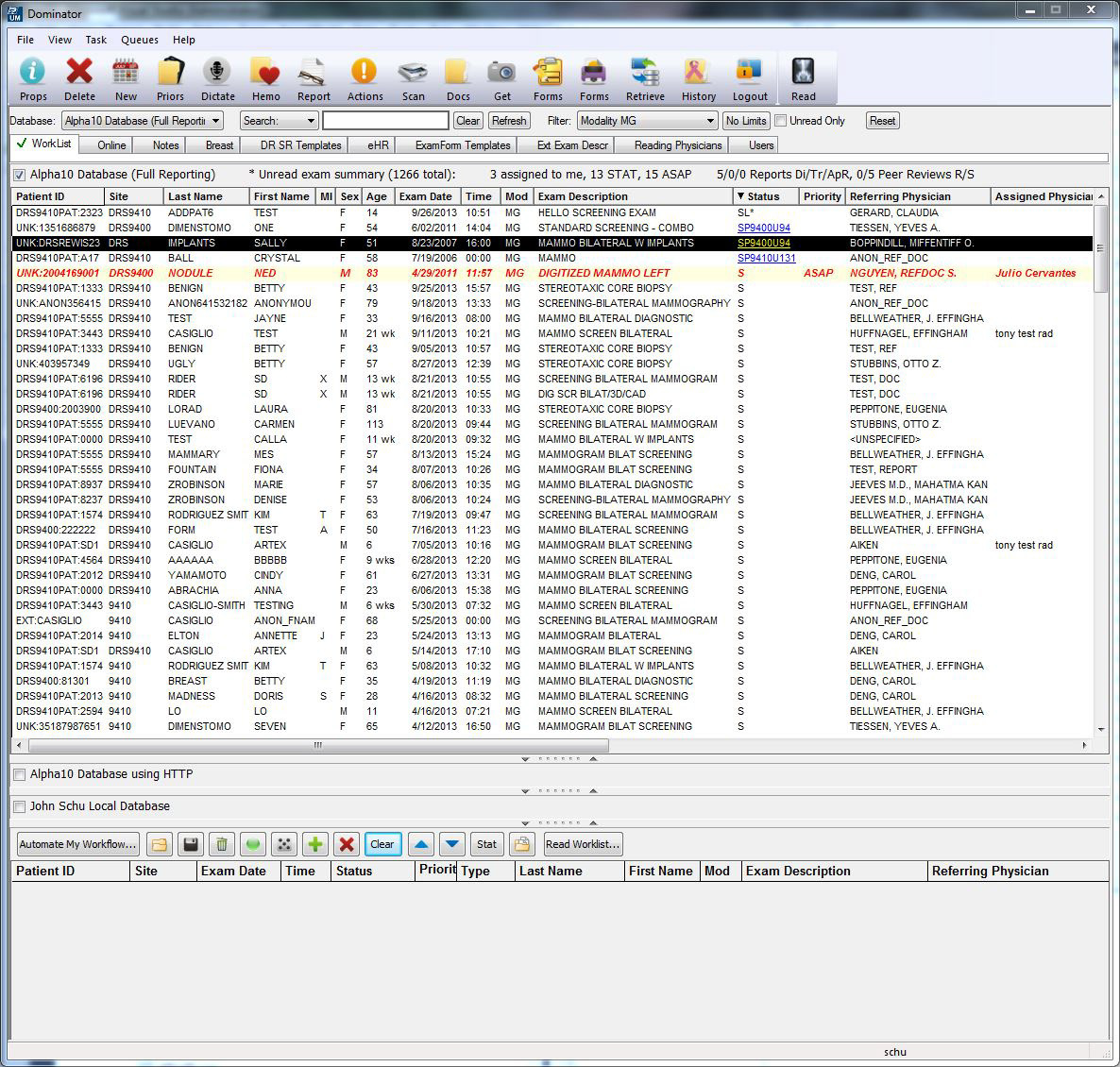 After assessing the current systems, we felt Rachel would benefit from a better solution to the worklist, as this is the start of the diagnosis. This is where they choose how to priortise patients. While "urgent" cases are marked, this is only determined by the person doing the x-ray. This means there could be urgent cases not flagged deep in the list, that Rachel may not diagnose in time. This was one of the main problems we wished to solve.
User testing
At this point, we felt we had a real understanding for Rachel and the problems she faced. However, we wanted to talk to real radiologists, to check our understanding, and ensure our solution helped with their everyday work. 
From multiple user interviews with several radiologists, we discovered a few further points we wished to incorporate into our designs.
"PACS does not currently nurture service line agreements which is a critical notion"
From this initial user research, we determined we needed a better way to flag cases that were urgent, being less reliant on human perception, as well as a way to flag SLA cases (ones that needed to be completed in a certain time).
User testing is something we continued with, well into our design process, to ensure our solutions added value on the previous systems. I took the role of the interviewer in several interviews, which I really enjoyed as it was something I wouldn't get the opportunity to do myself as a visual designer.
Iteration
During the design process, we were lucky enough to be able  to share these designs with practicing radiologists. This way, we were able to iterate and create designs we new would work. A challenge was finding a way to fit such a lot of information, in a way that doesn't overload the radiologist. 

Final designs
After a 6 week process of learning, interviewing and designing, we were able to create a design that met user needs. Our main new features were:

Clever use of AI:
The use of multiple diagnostic algorithms ensure the urgent cases are at the top of the list
The "Netflix" view:
For urgent cases, we added thumbnails in a card view, that are scrollable, as well as a quick view mode, that shows larger images, AI findings and patient history. This gives radiologists the ability to compare cases quickly, select the most urgent case, before loading up the image system. This saves valuable time, and when radiologists view hundreds of cases a day, ensures the most urgent are seen to first.
Marking of SLA cases: 
SLA cases are marked and given a time warning of how long is left before the case needs to be looked at.
Widgets:
We learnt from radiologists, their environment is very isolating. One radiologist in particular mentioned they always had the stocks up as its something that interested him. Customisable widgets allow radiologists to be more aware of the outside world, highlighting hospital alerts, weather warnings, as well as allowing them to play their spotify playlist. This was something that radiologists loved.
Feedback from our incubator lead
The Patterns Project Asgard team's success to deliver a re-invisioned and AI-infused prototype for the Radiology Cockpit with a modern user experience will enable Watson Health Imaging to build and release to the market in early 2021 the first of 3 components, the "Universal Worklist", that will rock and disrupt the highly saturated PACS market enabling the imaging organization be ahead of our key competitors, such as GE, Philips, and aidoc, allowing us to access the $1.5B addressable market. It will also set the path to a modernized and efficient radiology workflow empowering our users to get more done with less accessing in-house and 3rd party Imaging Analytics algorithms fueling the growth of IBM's new Imaging AI Marketplace.
Since finishing the project, and returning to our our own domains, we learn that the Watson Health team took our "Netflix view", and ship it in Q3 2021, as well as being showcased in the large RSNA conference, which was a huge win for our team.
We have also applied for a patent for our "Netflix view" concept, which is currently being filed.